About Us
Our Mission
Our mission is to keep pets safe, plain and simple. An ID tag is the first line of defense when a pet gets lost and leads to the quickest return home.
Please also visit Pet Talk for what to do if your pet becomes lost or if you find a lost pet and for other pet tips.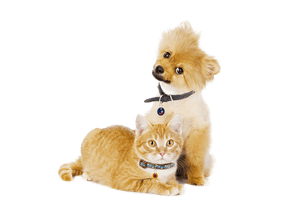 Meet the team

Doug Danforth, Jr.
Founder and CEO
Doug leads the team with his vision of and commitment to an easy-to-read, easy-to-attach ID tag on every pet. He has consulted with veterinarians, engineers, material scientists, manufacturing specialists, and others to develop the best pet tags and pet tag connector possible. Doug has extensive experience in corporate and real estate finance, and he was previously President and CEO of Midland Loan Services, a subsidiary of PNC Bank. Doug is a lifelong pet lover and a frequent visitor to Kansas City area dog parks with his two best Beagle friends, Molly and Marley.

Brittany Adams
Design Consultant
Brittany is the talent behind the colorful designs on Pawdentify® tags. She is a Pittsburgh-based graphic artist with a passion for exploring new ways to excite and communicate with people visually. She received her Bachelor of Science degree from the Art Institute of Pittsburgh. When she's not drawing or coding, she's outside micro gardening with her toddler and wrangling her rowdy black lab, Snooki, away from frightened chipmunks.
Susan E. Aiello, DVM, ELS
CHIEF VETERINARY OFFICER
Dr. Aiello has many years of experience in veterinary and human medical communications, specializing in editorial services and writing training. She is a former Editor-in-Chief of The Merck Veterinary Manual, a Past President of the Board of Editors in the Life Sciences, and a Fellow of the American Medical Writers Association. Susan serves as a guest faculty member for the Harvard Medical School Continuing Medical Education course on Writing, Publishing, and Social Media for Healthcare Professionals. In her spare time, Susan loves to read, bowl, and play with animals of all species, especially her snorty pug, Moxie, and a mixed-breed mischief-maker who answers (sometimes) to Alfie.
Jill Klancic
Customer Service Manager
Jill enjoys interacting with other pet lovers and providing personalized customer support. She has held various accounting and administrative roles in the past. Since 2005, she has owned and operated Pet Expectations, an online pet supply retailer. Jill lives on E-I-E-I-O Farm, which she shares with a Shetland pony, two goats, three dogs, a flock of chickens, and an indoor flock of two lovebirds, two conures, a caique, a dove, and nine parrots. E-I-E-I-WHOA!

Richard Nixon, JD
Consulting Attorney
Dick is a retired partner of the law firm of Stinson Leonard Street. His practice included representing privately held businesses and public companies in various areas of business law, including SEC matters, corporate law, limited liability company issues, mergers and acquisitions, corporate finance, and strategic alliances. Dick likes to golf and is an avid fan of the Kansas City Royals.

Daniel C. Richardson, DVM, DACVS
Veterinary Advisor
Dr. Richardson is CEO Emeritus of Kansas State University Olathe and remains active on several boards, including the Kansas State University Foundation Board of Trustees. Dan's distinguished career in academia included serving on the orthopedic surgery faculty at both Purdue University and North Carolina State University. He has received numerous awards for clinical and teaching excellence, including the Norden Distinguished Teacher Award at both institutions. He held several positions during his years of experience in industry with Hill's Pet Nutrition, Inc, including Vice President, Clinical Nutrition, as well as Chief Animal Welfare Veterinarian. Dan loves gardening and landscaping and also has a passion for welding and woodcarving for both practical uses and artistic expression.

John Teeter, DVM
VETERINARY PRACTICE CONSULTANT
Dr. Teeter is co-owner of Nall Hills Animal Hospital, a small animal practice in Kansas City. John is a 1982 graduate of the College of Veterinary Medicine at Kansas State University and remains active at his alma mater by serving on various vet school committees. He is also a past President of the Kansas City Veterinary Medical Association. In his spare time, John plays string bass, sings in local choral groups, and likes to scuba dive.
We would love to hear from you!
We love our customers! Please feel free to contact us with your comments, suggestions, or questions.
Contact Us